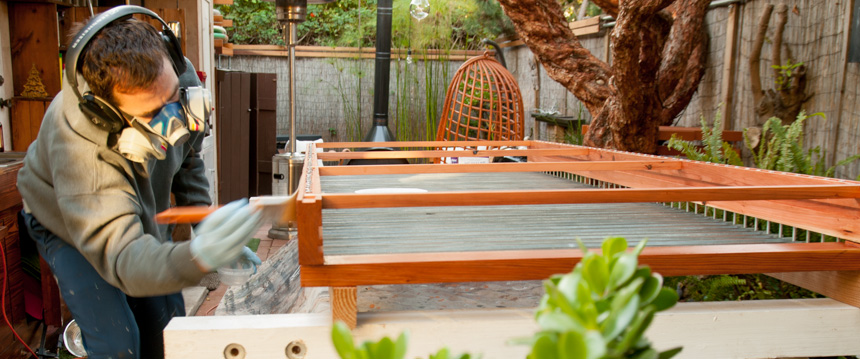 Ryan Benoit is a furniture designer, artist, engineer and inventor.
Designed in response to uninspiring outdoor furniture available in the common market, Ryan's handcrafted furniture combines repurposed, tech-friendly attributes with a clean, midcentury modern aesthetic. Kidney-shaped mahogany wood gets a boost from a 10″ caster. Warehouse ladders support an acrylic-topped entertainment shelter. Cage fan turbines make sleek, enchanting lamps. Who knew?
His "garden industrial" pieces add a strong and streamlined mood to the aromatic chaos of any garden space. They are also multipurpose, practical and convertible. Living tables with planter insets let you swap out plants for variety — and tech add-ons include integrated power, light, sound and video. The Garden Islet gives cozy kitchens and balconies a place to gather. Wheeled and modular sectionals promote both conversing and canoodling under the stars. In other words, there are infinite ways to keep these designs looking fresh.
He started sprucing up the outdoors as a kid in Connecticut, building the most New England thing imaginable: a fieldstone fence of hunted rocks and not a lick of mortar.. Today he lives in Southern California, working full-time as an engineer — repairing ships and wrestling down spreadsheets — and in his off hours as a designer of indoor and outdoor experiences.
Please contact Ryan Benoit for design commision inquiries. All designs are copyrighted by Ryan Benoit.